Since starting my own business, my home office has been my #1 work spot. Occasionally, I do venture out to Whole Foods, Starbucks, or my church's co-op space. (With a baby at home, some days it's just better to get out of the house). But for the most part, I wake up, shower, eat breakfast, nurse the babe, brew a pot of bulletproof coffee and get right to work in the comfort of my own home.
It's quite a change from Corporate America, and I must say, I LOVE it.
Since I spend so much time there, decorating is a big priority. It's been difficult to do what I really want to do, because we recently moved out of our home and in with my parents to save some money, but I still have some of the decor from my old office to liven up the space. And I can testify to the fact that decorating is crucial to maximizing your productivity. Especially since I work from home and there are so many distractions.
Here are some of the tips I have on designing your home office. Most of these I gathered from my own personal experience, but a few of them I picked up from Google and Pinterest searches. They're elements I'd like to implement once we move back into our home a year from now…
1. Choose a wall color that suits your line of work.
Different colors influence behavior differently:
Blue stimulates the mind and aids in mental productivity. If your job requires a lot of mental activity, you should probably paint your walls a shade of blue.
Yellow stimulates creativity and makes you more optimistic, so if you're a designer, this is the color to go with.
Red stimulates physical activity. If your job requires less mental and more physical exertion, red will help you be more physically productive.
Green enhances balance. This is the color I've decided to go with for my home office. (When we move back in, we plan to paint all of the walls). I suffer from ADD, and my job requires a lot of time online which only furthers the condition… :) So, balance is definitely something I need in my work life!
As far as which shade of these main colors to pick, that depends on whether you're trying to stimulate or soothe. Highly-saturated colors tend to stimulate, while less saturated colors have more soothing qualities. Assess your needs based on personality and productivity, and decide from there.
Can't decide on one color? Choose 2 complementary colors and have an accent wall (as in the pic below.)
2. Hang motivational pictures.
Several years ago, I created a vision board with magazine clippings and quotes to inspire action. Whenever I sense a dip in motivation or productivity, I look at that wall hanging and I'm instantly motivated. Photos of tropical vacations, inspirational quotes and things that represent what I'm trying to build for my life and my kids' lives keep me going on a daily basis.
3. Have a physical calendar.
We live in a digital age, so it's easy to relegate everything to your laptop or PC. But having a physical calendar forces you to write things down, and there's something about writing down your to-do's that gives them a sense of permanence and urgency and almost drives you forward in a way that a digital calendar just doesn't do. There are a couple of other benefits to having a physical calendar as well:
A digital calendar is only visible to you when you turn on your computer and open the calendar app. A physical calendar that hangs on your wall or sits on your desk is visible 24/7.
A digital calendar may malfunction or accidentally get erased. A physical calendar will serve as a back-up in the event that you lose your digital one.
4. Hang a whiteboard to keep track of daily to-do's.
This is especially useful if you share your office space and need to assign to-do's to other people. Again, a digital to-do list is helpful, but a physical one is even better for the reasons listed above. Consider combining your calendar and to-do list into one wall hanging or decal (as in the pic below.)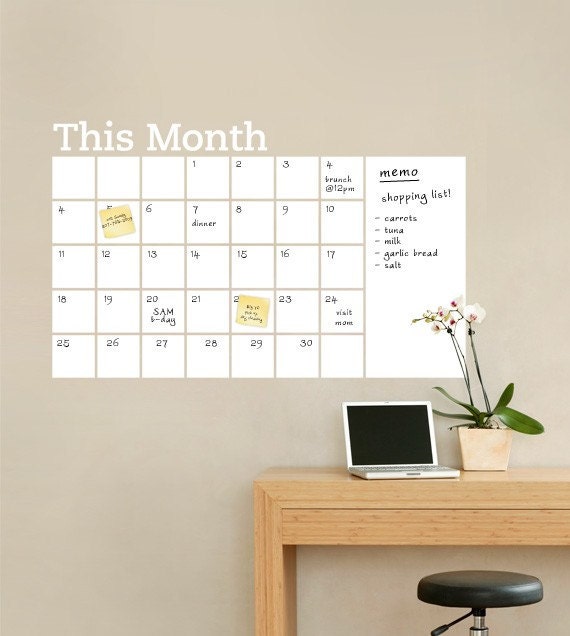 5. Make sure your furniture is ergonomic.
Your desk and chair should complement your decor, but even more importantly, it should enhance productivity. If you're constantly trying to get comfortable inside your workspace, you won't be as productive. Choose furniture that is designed to be comfortable, but not too comfortable. You don't want to be falling asleep at your desk.
(This picture of ergonomic furniture is also a great example of using an accent wall in a modern home office!)
Writing this post has made me even more excited about moving back into our home, so I can decorate our office. Right now, I guess Whole Foods will have to suffice as my temporary office space. Right now I'm surrounded by red walls, drinking a mean bulletproof coffee from the coffee bar!
#lovinglife